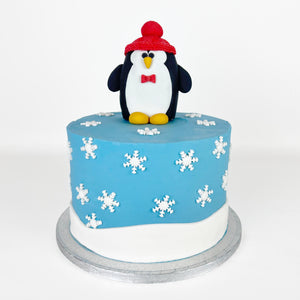 CHOOSE DELIVERY/COLLECTION DATE AND TIME AT CHECKOUT
Our frosty Penguin Cake, covered with blue buttercream and decorated with snow flakes and a big penguin in a woolly hat. With alternating layers of light fluffy sponge and silky buttercream, lots of flavours to choose from, the cake will look the same no matter which one you go for.
If you'd like a vegan/gluten free/dairy free version, send us an email and we'll let you know if its possible.
6" cake - approximately 6-10 portions
8" cake - approximately 12-18 portions
10" cake - approximately 28-34 portions
12" cake - approximately 40-44 portions
The cake in the photo is a 6" size
100% Vegetarian
Contains Gluten, Milk, Egg. Note: All chocolate flavours will also contain Soya. Salted Maple and Pecan will also contain Tree Nuts.
Made in an environment that handles, Gluten, Milk, Egg, Tree Nuts, Peanuts and Soya.
We hand deliver our cakes, so we can guarantee they arrive on time and in perfect condition.
We are delighted to have gathered brilliant reviews from our customers click the link below to see our reviews.